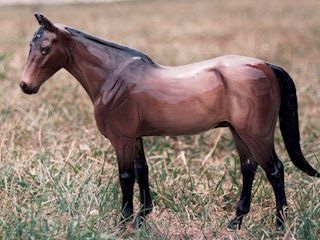 Portrait of 1977 Eclipse Champion Filly
Half Sister to Alydar!
Our Mims
Slightly smaller than the resin size of 9½" x 12¼" x 6¼"

Ceramic — $375 ppd*
*US Shipping — International more

This piece will vary in color because of the difference in firing conditions. Color shown should represent the edition color, but some variations may occur.

The Model Equestrian, in conjunction with Para Ceramics, proudly offers our first ceramic piece!

This piece is offered as a limited edition of 20 pieces painted and fired in the color pictured above (to represent Our Mims). An additional 10 "artist choice" pieces will be available, please e-mail for colors and availability.

Marge has produced and shipped many and various equine ceramic pieces for the hobby and art world. You can rest assured that she will find the best way to get this piece to you.

Interested in purchasing this piece? Please contact us for more information...