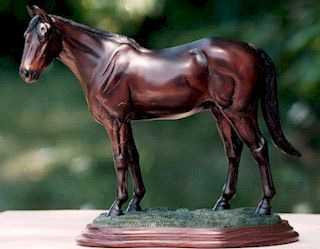 Portrait of 1977 Eclipse Champion Filly
Half Sister to Alydar!
9½" x 12¼" x 6¼"
Mounted on walnut base

Available in:
Painted Resin — Price: $350*
*Does Not Include Shipping

$50.00 of Sale Price is donated to ReRun.

The Model Equestrian proudly offers this resin cast! More pictures...

Under agreement with ReRun, this edition will contain 250 pieces. We are holding the first 5 resins from the edition as Artist Proofs. The sixth piece of the edition was gifted to Our Mims' owner, Jeanne Mirabito. Other numbered pieces in the edition may be reserved for use by ReRun.

This finished resin is completed in lacquers and oils, painted to look just like Our Mims. She is set on a sculpted resin base and mounted on a walnut base. Each piece comes with a numbered certificate of authenticity and a Starbrite Peppermint™, Mims' favorite treat.

We ship via US Postal Service Priority Shipping Insured for U.S. shipments. For international orders, please contact us. We will work with you to find the best shipping method.

Interested in purchasing this resin? Please contact us for more information.